Fantasy basketball is here! Yahoo officially opened up the floodgates to yet another season of tears, cheers, and jeers.
While I usually choke in the playoffs in fantasy football (damn injuries), and really couldn't give a crap about fantasy baseball (I love the Marlins...so you can understand my disinterest), I usually either win or come in second in all of my fantasy basketball leagues. I'd like to brag that it is superior intelligence or some other load of crap that helps me win, but it really just comes down to one thing in the regular season: paying attention to injuries. With so many games over a season, players are constantly in and out of the lineup. If you actally take the 2 seconds to check the status of your players, you'll probably wind up in the playoffs. It sounds boneheaded, but it's just that simple. Once you get into the playoffs, it's all about having players on your team that play a LOT of games in that given week.
There, my secret is out of the bag. I have easily just ushered in a decade of losing seasons now that those people in my leagues have read that.
Ah well, win or lose it is just great. My friends and I have already created a fantasy basketball league for this upcoming season. As many of you know, picking a good team name is always the hardest and most fun part. I decided to stay topical and name it "Adonal Foyle's Poetry", with my smack talk being one of his poems:

I sense good things for this team.
MagicDonJuan ( Mia,FL): Long time Orlando fan living in Miami...How strong
do you think Orlando will be, and do you think we have have done enough to give
us a chance at taking the Southeast division and finishing in the top 4....

David Thorpe: Pretty strong, mostly due to SVG. Yes, and yes. But it won't
be easy. The east is deep and lots of parity. Health will be a major factor.

And Ball Junkie also points out that John Hollinger, the guy who has been bashing the Magic all summer long after they acquired Rashard Lewis, had good things to say for once on Chad Ford's Daily Dish. Chad asked which team had improved the most after all of the summer moves and Hollinger actually said the Orlando Magic. He went on to say Orlando was young, had a lot of players coming into their prime, and that Adonal Foyle is really gonna help the team win. More than anything, Hollinger seems to really like Stan Van Gundy and thinks his defensive-minded approach will help the team succeed.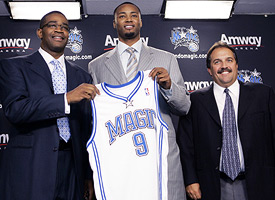 This turnaround doesn't really surprise me. Although a lot of teams did get better in the Eastern Conference, it is STILL the EAST and any team can really win it. The Cavs won it last year and every sportswriter had written them off as a team that was too one-dimensional to go anywhere. The Magic fortified their team in a few positions and got a really great coach, so ignoring that wouldn't be logical. On top of this, it would appear that the initial hatred over Rashard Lewis' hefty contract has subsided and people are actually starting to objectively scrutize the roster. While the team's lineup isn't perfect, it certainly is full of players that are capable of becoming something special if coached correctly.
Hopefully the good vibes continue. Orlando doesn't get as much press as other teams, so I fully expect the NBA season previews to be pretty harsh on them due to a lack of homework. As long as the team's players and organization have their chins up and stay optimistic, it should be clear sailing to the playoffs.